The CCE is lucky to have many incredible undergraduate and graduate student interns, assistants and volunteers who help run its projects, events and initiatives. One of these driven individuals is Mildred
Ngminebayih, a CCE Staff Assistant and CCE's Faculty-Student Scholar,
who organized a screening of the documentary film,
Solar Mamas
. Mildred hoped that the film would continue conversations fuel the campus dialogue regarding women's rights, health and education sparked by International Women's Day, which was celebrated last week on March 8
th
.
Mildred selected this film because she felt it best demonstrated the power of education and it's ability to help better the lives of those most people all over the world, particularly women.
Solar Mamas
primarily focuses on a 30 year- old Jordanian woman named Rafea, who cares for four children and a husband in a village close to the desert.
With encouragement from the country's Ministry of Environment, she leaves her village for the first time to go to the Barefoot College in India to train to become a solar-energy engineer.
Mildred has been touched by Rafea's story, and thought that a screening followed by a faculty-led a question and answer session discussing programs similar to Barefoot College, about culture, technology and their its potential impact for the greater on the Global Community, would be a great opportunity for BU students to learn more about the plights of many women living in poverty in developing nations and what they are doing to as they strive to help improve themselves, support their families, and change their communities. Mildred said that the turn out was more than expected, and a lively discussion followed the screening.
The Barefoot College in India was founded by Bunker Roy to provide knowledge and training to the rural poor so that they can empowered them to make their communities self-reliant and sustainable.
The solar course at Barefoot College has women from Kenya, Burkina Faso, Columbia, and Guatemala.
Rafea was the first Jordanian woman ever to attend such a program, and she dreams of returning home to bring much-needed income and talents to support her family and village.
"It was compelling to watch how the women bonded. despite the language barriers, they were all so supportive of each other. The struggle for women's independence is shown at such an intimate level in Solar Mamas, I was mesmerized", said Mildred.
The discussion preceding the screening was facilitated by Assistant Professor of Anthropology, Joshua Reno, who has done extensive research on the controversies surrounding the use of modern technology to solve problems ranging from waste and climate change to disability and energy insecurity. Technology, while convenient, presents difficult questions, particularly in developing nations, where tradition and cultural authenticity are sometimes at stake: How does technology impact culture? Are these changes worth the conveniences that technology provides? What gets lost in the transition from an older way of life to a new, more "modern" one?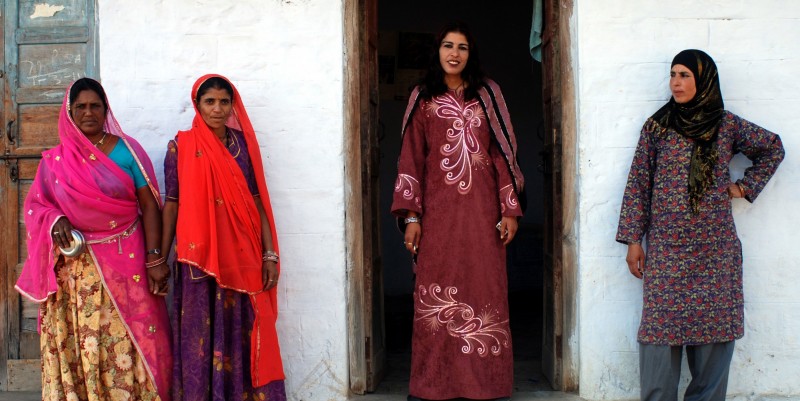 Mildred said that the conversations spurred by the film gave her hope that initiatives similar to the Barefoot College would gain traction in the Global Community.